Scored a major diaper deal that will keep us in stock for hopefully awhile. I'm going to guess about 3 months but we'll see. Just depends on how quickly Toots decides to pee or poop out of them. I've still never figured out how he has manipulate gravity and cause his poo to go up his back to his shoulders when he is a sitting position. I can see laying down but sitting??? Just another mystery I guess. Anyways here's my deal today....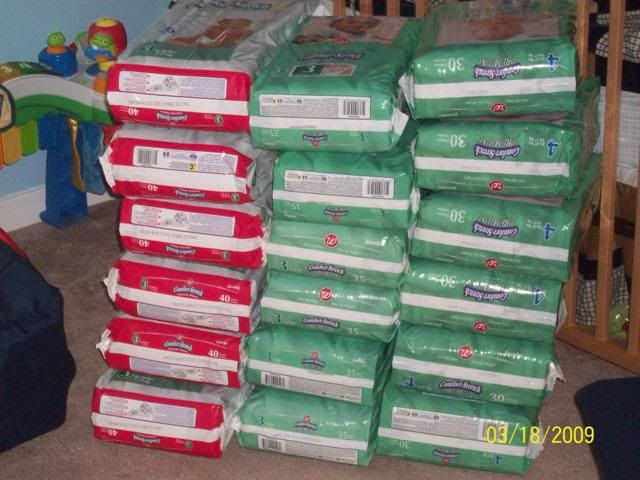 Count that....18 packages of diapers. My total expense..........$47.43. Yes you read that right. Walgreens has a sale on diapers right now...2 for $9. On top of that they have a coupone for $2 a package. When you scan the coupon it automatically takes the $2 off every package in the order. I went to 3 stores buying 6 packages at each one and at each one the coupon took off $12. Woohoo! These packages normally run $8.99 each so the sale itself was a good deal. Originally these would be $161.2 before taxes. So my savings is $114.39. Can you believe that??
By the way the sale is through March 21st. The $2 coupon can be found at the pharmacy. You just ask them for their information on the prescription savings card. In the information there are various coupons and the $2 coupon is in that.