This week, well till the 31st, Harris Teeter is tripling coupons up to and including $.99. There is a limit of 20 coupons per household per day but if the deals are good enough making more than one trip isn't that big of a deal. I went today and actually didn't get 3 of the things I really wanted which would be basically free. So tomorrow or Tuesday I'll run by again just to see if I can snag them. Hey, free is free right??
So here is the low down on what I got today.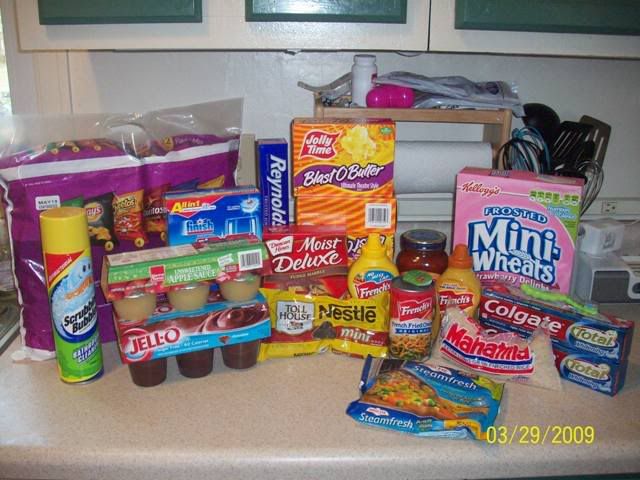 1 can scrubbing bubbles bathroom cleaner
1 box 75ft Reynolds foil
2 boxes Electrosol Finish dishwasher tabs
1 box Duncan hines cake mix
1 bag 22 count chips
1 bag Nestle mini chocolate chips
1 bag steamfresh mixed veggies
1 bottle french's mustard
1 bottle french's honey mustard
2 tubes colgate toothpaste
1 colgate kids toothbrush
1 bottle barilla pasta sauce
1 box strawberry frosted miniwheats
5 boxes jolly time microwave popcorn
1 can french's french fried onions
1 package jello pudding, 6ct
1 package applesauce, 6ct
1 bag mahatma rice
Original order total $88.86
Total after savings $30.50
Total savings $58.36!!!
The ones I missed are:
softsoap handsoap. $1.14 bottle, $.35 coupon x 3 final cost $.09
honecomb cereal 2/$4 2 coupons $.55 x 3 final cost $.35 per box
So for $1 I'll get soap and 2 boxes of cereal. Gotta love the deals!