Our next favorite toy...The
LeapFrog Tag Reader System.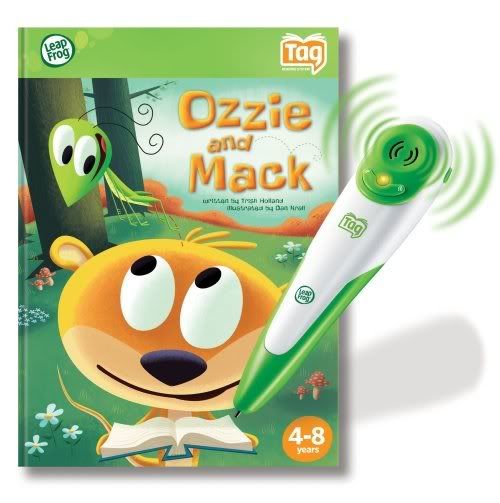 This particular toy is one of my favorites. Monkey enjoys it but it does play 2nd fiddle to the Leapster. We've all seen the reader systems out there. The touch books and such. This one though I think is superior to those. For one, it's much more portable. You can play with the book by itself or use the "pen". The reader pen also has volume control and the ability to hook up head phones to it. In the age of too loud electronics, that is every parents dream.

The system comes with one book and then there is a pretty large selection of books to add to it. Whats the best part you wonder? With this system it comes with a USB cable that connects the pen to my computer. It will then download and tell me about how Monkey is learning. It keeps track of which questions she answered correctly, how long she spent on a particular book, which games she played the most, etc. You create whats called a learning path that you can customize for your child. It includes information like their age and current grade level and then will use that to determine what level the child is reading/playing on.
Yet another good investment I think as in just since Christmas I've seen Monkey's reading skills improve. The books have lots of options for play. Either reading the story to them or helping pronounce each word individually plus the various games. I do suggest rechargeable batteries again if the child will play with it a lot. It uses 2 AAA which monkey when through the first set in one day.