So I figured I would do something a little different for the time being. Until I can find something new to blog about. Monkey got several neat toys for Christmas so I thought maybe I would do a review of them to pass on the information. So here goes.
First up....her all time favorite toy so far. The
LeapFrog Leapster
.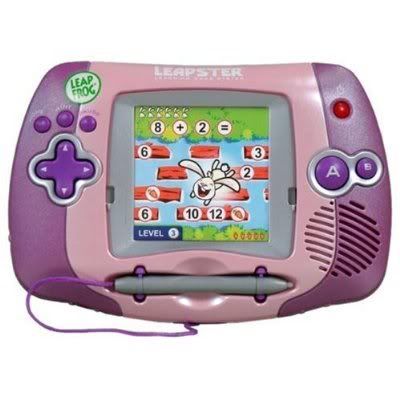 I had originally thought about getting her the Nintendo DS however after talking to Mr. X we figured this would be the better bet. For one it's much more durable than the DS. When the leapster 1st came in I took it out and played with it for a bit to see how it worked. In that I dropped it. Didn't even cause a blip on the screen. This thing is solidly built and will withstand those oops moments so common to 5 year olds. Also, this teaches them how to use the system with all new games. When Monkey first got it out I did have to show her for all of maybe 5 minutes how to do something. She has since learned it all on her own.
As for how she likes it? As i said it appears to be her favorite toy of all. She will play with it for hours if we let her. It's great for when I need to run errands and she is stuck in the car. I wish we would have had it for our recent trip back home that was 12 hours one way. Imagine the number of "are we there yets" you can avoid.
Some tips...invest in rechargeable batteries and/or the AC adapter. We have the rechargeables and we put them on the charger about every other day. I still ant to get the AC adapter so that while at home she can just plug it in and not run off batteries. If you try to run off regular batteries and your kid plays it a lot you WILL eat through them really fast. It takes 4 AA and i got the batteries for $11 at walmart and then the charger.
Hmm..What else. The system comes with 2 built in games which Monkey played the most with at first. One is a coloring game. The other is kinda like old school Frogger but it involves them identifying letters and numbers. I bought some additional games and so far the Disney Princess is the game of choice. It helps with identifying letters both upper and lower case as well as words. I think there is some math in it too. She played with it for hours yesterday and all I kept hearign from her was "Awesome" or "Yea!" or "Mommy look at this treasure".
Over all I think it was a good investment. It's great for people who want something that their kids will enjoy for a long while but will also teach them various learnign things as well.
Coming soon.....the LeapFrog Tag Reader!