This morning we attended our playgroups annual Fall Festival. Our friend Jennifer and her son Justin tagged along too and hopefully they had fun like we did! There were crafts and games for the kiddos, a costume parade, trunk or treating, and yummy food. I personally loved our beer bread....YUM! There were some amazing sugar cookies and this hashbrown bake with corn flakes on it. We were eating going thats for sure.
During the party I snapped a few pic's of costumes the kiddo's were wearing. I narrowed it down to my top 2 favorite but first, here are a few others that were too cute.
First of course, my horse and cheerleader. Don't mind their facial expressions. I don't even attempt to try and get Monkey to make a straight face and Toots...well you know. He's ONLY now quite 7 weeks now.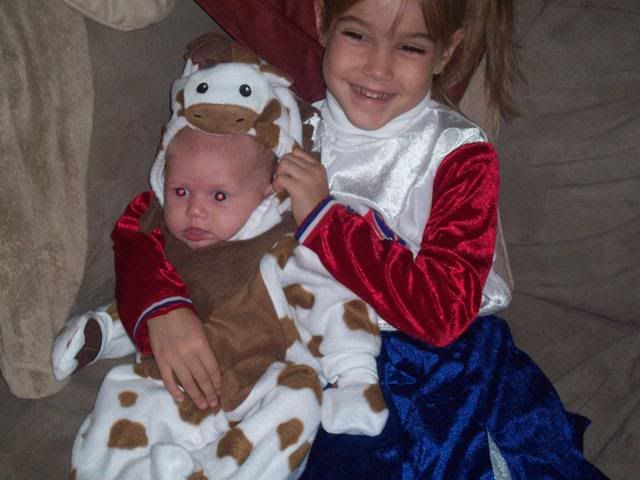 Then we have Justin as Elmo. It took a good bit of coaxing to get him to wear that costume but he finally did and got to participate in the trunk or treating.


Here we have the cabbage patch kid. I couldn't get close enough to get a pic of hte kiddo inside but rest assured she was more adorable than any doll. I gotta say though, the real doll has got to be huge to justify that big old box!


Here we have a monkey with the chubbiest cheeks. Makes ya just want to squeeze him. And gotta love the little details like the banana sticking out of his pocket.


And here we have the fisherwoman with her catch of the day. I gotta commend the people who come up with these ideas!


And now the leaders.

The peacock. Sorry the picture isn't that great, I was trying so hard but Toots was eating like he is a starved baby and I was operating the camera left handed. Doesn't work so well for a right handed person. This costume was absolutely adorable though, right down to her orange tights and her feathers all puffed out around her. She was the prettiest peacock ya ever did see!


And finally, the one I think I do have to label the winner. Basically for originality. I'm pretty sure this was a home made costume, if not I'd like to know what store makes costumes like this! I don't think words could do it justice so here ya go....



Neat isn't it? Not only is that a washing machine but it's complete with Tide and Clorox and the assorted clothing as well. I hope though that the clothing was at least clean for the demonstration...especially the underwear on his head. Now what I really want to know is how they got their young son to wear that willingly!